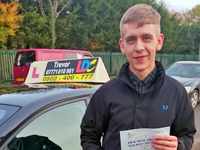 Michael B
Passed 1st Time! with Midway Pass Course
Thank you for getting everything across to me and for all of your help and time! I couldn't have done it without you!! I will be in touch in the near future in regards to further training (pass plus) and once I have found a car of my own. Until then, wishing you nothing but the best!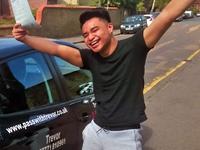 Josh
Passed with LDC
I had put off driving for a while now, mainly due to not being able to find much time and having a not so great experience with a previous instructor. However, Trevor made me realise how lessons should be and made them enjoyable by being so friendly, so I quickly made progress. Furthermore, he does actually have good intentions in wanting you to pass and will not drag out the time spent. Trevor breaks down the process and provides good explanation clearly. Also having someone who believes in you is comforting! Worth noting that block booking is a lot cheaper! I would recommend him to anyone 5/5.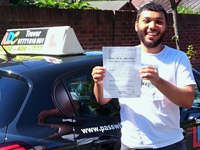 Charn Procter-Thomas
Passed 1st Time!
Having been put off of learning to drive two years ago by a previous instructor, Trevor got me right on track and helped me to enjoy the process. Through the journey he believed in my abilities more than I did, encouraging me to improve and guiding me along the way. Through his help I managed to pass my test on my first try, and I couldn't image a better person to have taught me to drive. 5/5.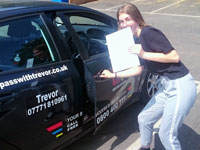 Ella Bassett
Passed with LDC
Learning with Trevor has been great. Eventhough I failed the first test, Trevor was patient with me and was flexible with his teaching methods to suit me best. I would highly HIGHLY recommend him to anyone, as he is a calm and funny instructor, yet is always conscious of teaching you more about driving than just passing the test, he makes sure you're aware and prepared for everything else. Definitely 5/5.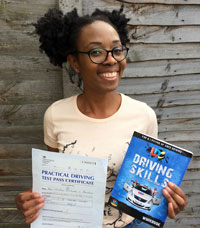 C
Passed with LDC
Trevor believed I could drive way before I did. I'd had three different instructors (not counting family members) before, and finally passed with him. He's patient and great at explaining how to control a car and be mindful of other drivers. I recommend him highly!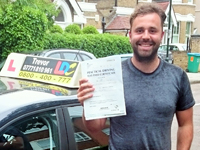 John Thorman
Passed 1st Time!
I wouldn't hesitate to recommend Trevor to anyone looking to book driving lessons. He has a very adaptable approach and will get you to where you need to be! He is very good at explaining things and giving examples of what and how you are making mistakes. Learning to drive can be quite a stressful situation and Trevor is good at making sure you feel relaxed and comfortable!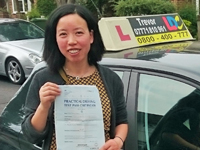 Yuhua Chen
Passed with LDC
Before getting in contact with Trevor, I already had more than 40 hours lessons with my previous instructor. At that time, I felt frustrated that I could not improve my driving skill anymore and became very nervous for a test. It was the best decision to have Trevor as my new instructor. I felt my improvement in every single lesson with him. He is very professional. He is always on time. he can quickly spot my driving problems or bad habits, explain things to me clearly and fixed it with practice. I would Highly recommend him to all learners!!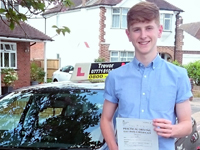 Jack Robinson
1st Time Pass after only 25hrs
I wouldn't hesitate to recommend Trevor to anyone looking to book driving lessons. He has a very calm, adaptable an approachable manner plus a sense of humour; which always helps! He is very good at explaining things and giving examples in the right way so that you can remember them. Trevor was recommended to me and I'm very glad he was my driving instructor" Thanks again. Sorry about the one DF (minor)! ;-)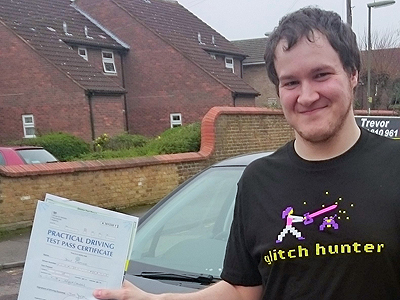 David Fleming
Passed with LDC Semi Intensive course
I can't give a stronger recommendation for Trevor and the LDC system. Due to being incredibly anxious by nature, it was a massive step for me to even begin to learn driving, let alone get right through and pass my test - but Trevor had me feeling at ease extremely quickly. He has a very friendly manner and a great insight into some of the psychology required to turn an anxious person like me into a confident and safe driver. I will not forget my lessons with Trevor and some of his mantras will stay with me for life. Trevor is the kind of instructor who actually makes passing my test a somewhat bittersweet experience.
I will certainly miss having lessons with him! Don't think about it, book with Trevor and be confident he'll see you to a solid pass and then some (and the LDC system is a fantastic compliment to Trevor's teaching style too). Thanks once again!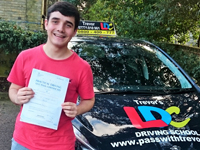 Luke Slater
1st Time Pass
All I want to say is that: Trevor is a great teacher that helped me pass, as he was very patient and understanding of my skills and abilities and had confidence in me even when I didn't. I feel that I wouldn't have passed with anyone else. Every time a friend asks about a good instructor, Trevor is always my go-to 5/5.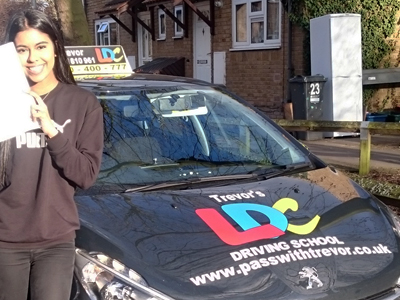 Ayesha NandKumar
Passed 1st Time! - After 28 hrs
I am extremely grateful to have had Trevor as my instructor. His patience puts you at ease and his humour keeps you going every lesson. He is keen to bring out the best in his students and he pushed me to my limit no matter how difficult and stubborn I was. He provides constructive criticism and provides the most amazing tips and tricks for every manoeuvre. Trevor is generally an amazing person as well as a spectacular instructor. The structure of the lesson is very helpful as LDC provide a lesson book which has multiple topics and allows you to track your progress. It was encouraging knowing that I had an aim in mind for every lesson. I can proudly say that I have passed my test and I am pleased to say that it would not have been possible without the help of Trevor. I will be recommending Trevor to all my friends and family. If you're looking to feel confident while driving, enjoy your driving lessons and be in safe hands Trevor is the one! I will forever be thankful to him as he has allowed me to gain the skills I needed which will stay with me for the rest of my life." Once again, thank you so much for everything that you have helped me achieve!!! Kind Regards, Ayesha.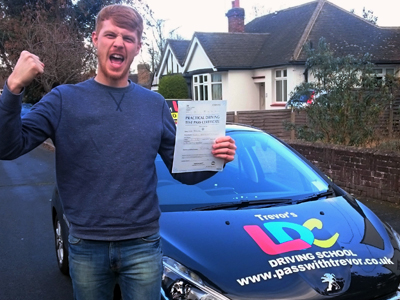 Luke Barling
Passed with LDC Intensive Course
I booked a semi-intensive course with LDC and Trevor was assigned to me as my instructor. I was a little sceptical of booking the Semi-Intensive course at first, as I couldn't imagine that I'd be ready to take a test after 30 hours of lessons in the space of 3 weeks, after no previous driving experience at all. How wrong I was! I did unfortunately fail my first test but, that was my own doing and didn't reflect what Trevor had taught me at all.
Trevor is an extremely patient, helpful, generous and good humoured bloke who is so easy to get along with. He made me feel calm, comfortable and confident in my ability, even though I didn't believe it myself at times. I learned something from every single lesson with Trevor, even the times when the car isn't moving, you're still learning.
The LDC workbook and DVDs were a massive help too, they prepare you for each of your lessons, so don't disregard them! I would highly recommend LDC and especially Trevor to anyone of any ability, to get themselves test ready. I can't thank Trevor enough for making what seemed so terrifying for so long (I'm 30), such an enjoyable experience.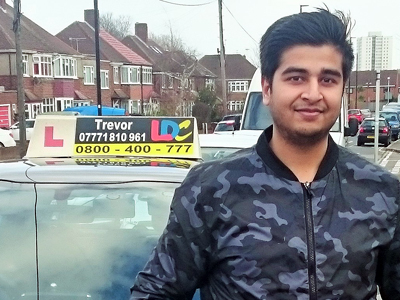 Yashwant Rathor
Passed 1st Time! - After 15 hrs with LDC
Trevor is a phenomenal instructor who has a very positive attitude towards teaching and is very friendly during lessons. Unlike my previous instructors at another driving school, Trevor is highly professional, takes time to assess your progress and helps you become a better driver with each lesson. Along with the learning materials provided by LDC, Trevor was able to help me pass my driving test with confidence after just 15 hours through a semi-intensive test booster course.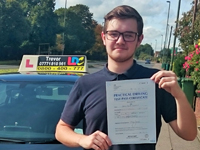 James Griffin
Passed 1st Time! - After only 15 hrs!
5/5 stars. Very chilled out and professional. Fantastic teacher with great teaching techniques. Would recommend to all. Thank you for teaching me Trevor, and I will 100% be recommending you to my friends who are learning.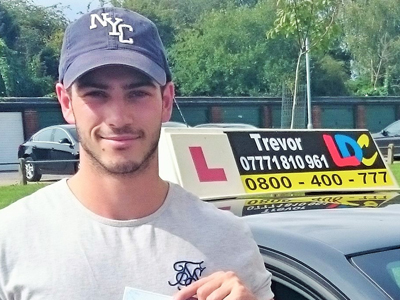 Ryan D'cruz
Passed 1st Time!
1st Time Pass Trevor is a fantastic instructor who quickly helped me pick up the skills I needed to pass due to his good teaching, which is aided with the fantastic materials provided by LDC. Trevor, has an incredible way of putting you at ease straight away, making you feel comfortable and confident in your own driving ability. Thus, allowing you to adopt the safe successful skills of driving quickly. Don't let the price of the course put you off, it is fantastic value for money and will definitely end up cheaper in the long run. I would 100% recommend Trevor and the LDC course to anyone. Thanks again Trevor!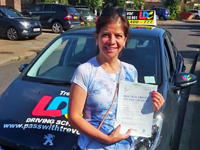 Sandra Angarita
Passed with LDC
I was a mature learner and very nervous about learning to drive. I read reviews about Trevor online and decided to book with him. He was very patient and slowly built my confidence. He was good at explaining manoeuvres into little steps to help me fully understand them. I would definitely recommend Trevor and will be booking Pass Plus soon.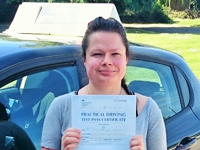 Ruth G
Passed with LDC
I got in contact with Trevor after a recommendation from a work colleague, following a break of nearly 10 years from lessons. Although it took a while for us to sort out a regular lesson plan I was pleasantly surprised at how quickly I was up to speed and passing my test. I would be the first to admit that I am not the easiest person to instruct, however Trevor managed to do what other driving instructors have not been able to. As an instructor Trevor is very professional, punctual and does not waste time in the car, which is highly appreciated when we where fitting in a lesson during my lunch hour. Thank you.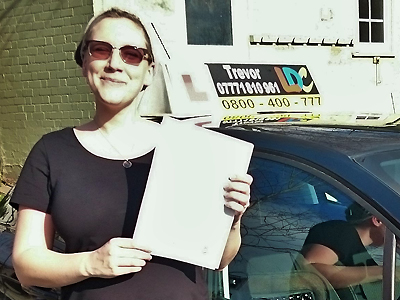 Cora Norrey
Passed with LDC Intensive Course
I booked a semi intensive course with Trevor after a recommendation from a friend. I had taken my first test 15 years ago, failed and had never taken it again. The LDC course structure is great and gives you the feeling that you are progressing and learning every day. Trevor was a fantastic instructor with great hints and tips to get over some of my more stubborn issues with driving and it really worked. The open dialogue with Trevor meant that the lessons were both focusing on the areas I was most concerned by whilst also ensuring that we were progressing well, covering everything necessary and making sure that I was prepared as possible for test day. I'm still amazed how far I came in just five days. Needless to say, I passed(!) and with only two minors, I couldn't be happier with the outcome. Thank you Trevor!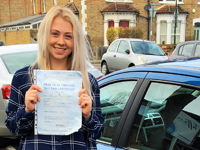 Hannah Cross
Passed with LDC Intensive Course
Although I failed my first time after an intense course with Trevor, he assured me that I could retake the test with no extra lessons, and so I did, and I passed! Trevor made driving less scary, and always made me feel confident with my driving ability, even if I didn't think so myself. He also has incredible patience! Any instructor I had before did not compare and I would 100% recommend him! Thanks again for all your hel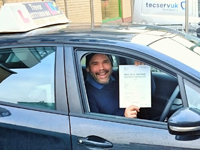 Otto Firnhaber
2nd Time Pass
2nd Time Passer / 20 Hours and Private Practice Thanks a lot Trevor. I passed my driving test after my second time with only two minors. I failed my first time because of my bad habits ( I have been driving on the left side for over 28 years). Trevor is really professional, he is always on time, makes the lessons very easy and enjoyable. I would highly recommend him.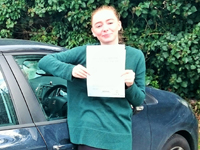 Laura Stephens Nield
Passed 1st Time!
First time pass thanks to Trevor! A GREAT teacher who really believes in you when you doubt yourself. After lessons with a previous instructor I felt that I wasn't improving or learning anything, and as a result found Trevor's details which was the best decision I made. Not only did Trevor help with my driving skills but he also helped build my confidence a lot too. He was very patient and positive which was a big bonus. Highly recommend to all learners!!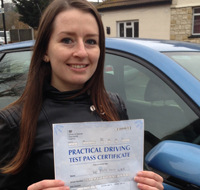 Roslyn Weller
1st Time Pass
I booked a semi intensive course through LDC by recommendation from a friend, and I'm glad I did because you won't find a better instructor than Trevor. His patience is unrivaled, even when dealing with someone as stubborn and awkward as myself, he pushed me to keep going even when I felt like giving up. His feedback is honest and constructive, not sugar-coated but not demeaning either, and he has a plethora of tips and tricks to help you overcome your weaknesses. Professionalism aside, Trevor is a genuine, considerate and good humoured person, you'd be a fool to overlook him. Thanks a million for having faith in me and for all your help!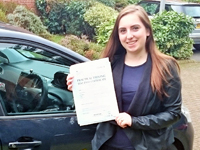 Brygida Miklos
Passed 1st Time!
I passed my driving test first time with Trevor after only 30 hours of driving. Trevor is great instructor. Every manoeuvre and skill was explained in such a way, anyone would be able to ace it. My confidence raised up, after only a few hours of driving with Trevor. I would recommend Trevor to anyone, whether you're looking for an intense course like I was, or you want to take extra time and more lessons. I could not have asked for a better driving instructor, especially when it's your first attempt learning how to drive. Trevor was my first choice and I am glad I didn't look any further.
Alastair Smith
Passed 1st Time!
Trevor is a brilliant and patient instructor who is very generous with his time. He is brave enough to attempt to "get into your mind" in order to help you overcome specific issues you have, increase your confidence and finally finesse your driving skills, ensuring you can deliver the best performance you can come test day. The only problem with driving with such a wry humored and affable chap is that you may miss him terribly after gaining your licence, effectively forcing you to do the pass plus course, even though you don't care about insurance premiums because you don't own a car. As for me, I'm just waiting for him to offer CPC certification... Highly recommended.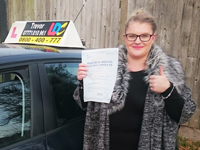 Laura Hinksman
Passed 1st Time!
I passed first time with Trevor! He is an amazing instructor! Learning with Trevor was so easy. He made it look effortless but when you knuckle down and listen to him you see its not as hard or scary as it first looks. He helped me gain the confidence and self belief i was lacking. I really wasn't expecting to pass first time, but i was so happy when i did. And it's all thanks to Trevor for his patience and commitment on helping me be the best driver i can. I will be highly recommending him & LDC to all my family and friends. Thank you so much for helping me.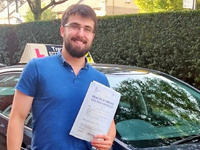 Craig Appleby
1st Time Pass in only 15hrs with LDC
I cannot recommend Trevor highly enough. He is an excellent driving instructor. He planned lessons that challenged me in a safe environment and this vastly improved my driving skills. Most notably for me, although I had a little experience a few years ago, Trevor helped me gain the confidence and self belief I needed to be a good driver and ultimately pass my test. Thanks Trevor.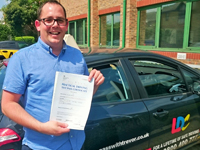 Matt Cassidy
1st Time Pass in only 21hrs with LDC
1st Time Pass in only 21hrs with LDC and Trevor. Trevor was brilliant, he always made me feel calm and in control. He's very clear and takes time to explain things and also made it fun. The study material that LDC supplied was very helpful and sped up the whole process up. I would recommend that anyone who wishes to learn to drive uses Trevor and LDC, you won't find a better driving instructor.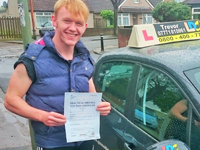 Tyler Bryant
1st Time Pass in only 23hrs with LDC
Trevor is a fantastic teacher that I will definitely recommend, He has lots of patience and a great sense of humour which will never, not make you draw a smile. If you are looking for someone to feel comfortable with sitting next to, guiding you through a difficult time, then Trevor is your man. He will make sure you have the relevant skills you need to pass your test. You are in safe hands with Trevor and he will definitely show you the way to pass your test. Thank you Trevor for everything. Once again, I will highly recommend you to everyone I know.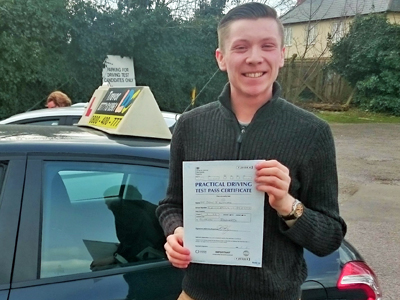 Sean Kennedy
Passed with LDC After 28hrs
After reading a number of glowing testimonials on his website, I contacted Trevor in the hope of passing my Driving Test in London. Not knowing the area and having bad experiences with learning to drive in the past, made me feel very dubious in starting to drive again. From the moment I stepped into the car I felt totally safe under Trevor's guidance and supervision. His calm, friendly and unique approach to the way he works, intertwined with the amazing LDC system, enabled me to pick up all the skills I needed quickly and confidently. The thought of learning to drive in London made me quite anxious, but having Trevor as an instructor I felt totally in control and the nerves of driving in London soon diminished. The textbook and DVD's of each manoeuvre and task set in the LDC learning style was fully explored and all questions answered so I could easily put them into practice on the road. I Would definitely recommend Trevor to anyone who is anxious to drive and has a passion to become a Great, Safe and Confident driver. Thank You Trevor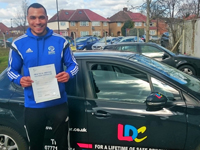 Tyler Wootton
1st Time Pass in only 18hrs with LDC
Thank you, you are a great teacher and perfect for anyone that wants to become a good and safe driver! Thanks Trevor! I will definitely be passing your number on to people!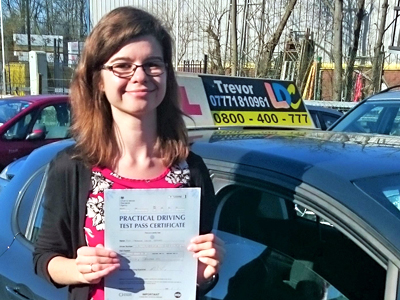 Sam Critchell
1st Time Pass
I highly enjoyed learning to drive through LDC and see it as a great success passing first time. However, it wouldn't have been possible without my instructor, Trevor. He was so patient, with hints and tips to make something that didn't come naturally at first, stick. Focusing on a different topic each lesson really helped, then narrowing it down to areas where I could improve, meant by test day I felt confident in my driving ability. I was recommended Trevor by my brother who passed with him a few years ago and I would definitely recommend him to anyone who is looking to learn to drive.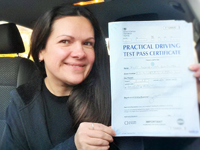 Agnieszka Blaszczyk
First time pass after only 20 hrs with LDC + Private practice
THANK YOU AGAIN!!!!
Bless you! ;-)
Pass with Trevor? Yes! It is possible!
I took my Driving test after 20 hours of driving lessons and I had only 5 minor faults! I highly recommend Trevor as an very professional instructor. I thought that I will never be able to drive, because of the fear..... Trevor helped me to fight all of my fears.....
All I can say that he has really great personality and thanks to him I became a driver and I love driving my car!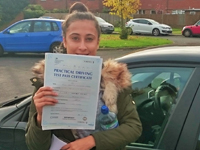 Becky Majury
Passed with only 2 Driving Faults
I was recommended LDC by a friend of mine and I couldn't be happier! I had no driving experience what so ever and wasn't very confident behind the wheel, but Trevor was always patient with me and helped me gain my confidence even when I wanted to give up. I didn't expect to pass my test with just 2 minors! So thank you Trev! I would definitely highly recommend him :)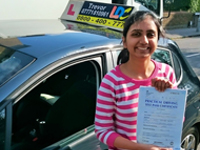 Shweta Sangewar
Clean Sheet! - 0 Driving Faults!
I passed my test after 30 hrs of training with zero minor faults. Trevor is a great instructor and learning from him made sure I become a safe driver for life. He was very professional and punctual for all his lessons. I used to be nervous behind steering wheel and had many bad habits like coasting, object fixation, fear of high speed and general panic. Trevor used to be very polite, patient and cool-headed throughout the lessons and helped me get rid of all the mistakes leading to a 'zero minors' test result. I am greatly thankful to Trevor for helping me pass and would highly recommend him!!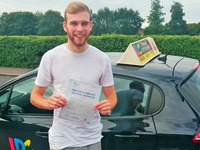 Matt Gibson
1st Time Pass with LDC Semi Intensive Course
Trevor is a great instructor who helped me quickly pick up the skills I needed to pass due to his good teaching and the fantastic materials provided by LDC. Throughout the course he made me feel comfortable and confident with my driving ability which helped to speed the process up. All these factors combined with the well structured semi intensive course allowed me to pass first time with 30hours of driving experience. Don't let the price of the course put you off, it is fantastic value for money and will definitely end up cheaper. I would 100% recommend Trevor and the LDC course to anyone. Thanks again Trevor!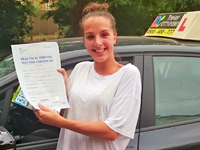 Rhianne Hannah
Pass with LDC and 25hrs
Thank you so much Trevor for helping me. I thought I would never pass but Trevor made all the difference. He taught me some really helpful techniques, he is a kind and patient tutor & is a great person to train with. I'm also going to follow up with the pass plus course once I get a car.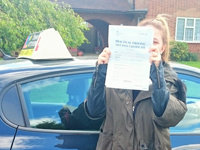 Sophie Allen
A confident pass with LDC
Trevor is an amazing instructor and I never thought I would pass my test after nearly 2 years of trying and feeling like I never got anywhere! I learnt so much from Trevor in just a week & I couldn't be more thankful for all his support and dealing with my tantrums and calming me down when I panicked and made mistakes. I highly recommend Trevor and the LDC as I never would have done it without them! :-)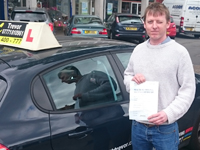 Robert Duncan
1st Time Pass after only 17hrs with LDC
I passed first time with Trevor after only 17 hours of lessons and under £350 including the test fees. This LDC system does actually help you pass with half of the lessons. 200% Recommend! :-)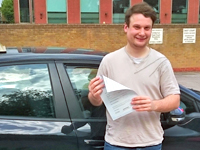 Iain Purton
Pass after just over 20 hours with LDC
Trevor gave me the skills to ensure that I would not only pass the driving test, but also instill in me the confidence and ability to ensure that the first time I drove alone, I would be as safe and capable as an experienced driver.
His teaching style meant that even the most challenging learners such as myself could prosper. He was both patient and very sharp at analysing and generating solutions to my errors - allowing me to quickly progress through my lessons.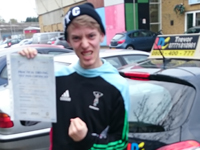 Jack Shaw
Test Booster paid off
My previous driving instructors hadn't managed to in-still a passing performance. Trevor however, in just 15 hours, managed to polish up the little skills I had and made me able to pass my test. He has a wide knowledge base and a few handy tricks to help you to remember the stuff you need to know to pass. He is genuinely a great guy and a great teacher.
LDC send you a very useful work pack that includes a highway code book that helps you get over the theory part of the test easily and a DVD to help too.
I highly recommend using Trevor to anyone considering. You'll pass.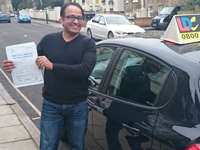 Chandan Banerjee
1st Time Pass using the LDC System
Trevor's approach to imparting lessons is exemplary. He is very professional, courteous, punctual and patient. I have driven in the past in India and USA but I needed a quick refresher course to get my confidence back to be able to drive in UK where driving standards are very high and rules and signs can get a bit scary.
When I read the details of LDC's teaching style, I contacted Trevor. Trevor fully understood my objectives and recommended most optimal approach and duration for me. To be honest, when Trevor suggested a brief 5 hour package, I was skeptical initially but after just my first 1 hour lesson, I realised the immense impact that his teaching methodologies and LDC course structure can have on improving my driving. From then on, with every lesson, I continued to 'unlearn' many bad habits and started gaining confidence. Another aspect of Trevor that I really appreciate was his keenness to teach me those little tricks that ensured that I got it in one go - be practical fool-proof steps to learn manoeuvres or to quickly grasp various signs and symbols while driving.
Trevor has a great sense of humour and definitely takes stress out of the learning process. After 5 lessons, when Trevor said that I was ready, I knew I will clear the practical test...and I did it. If you are looking for someone who will take interest in your success, is genuine and walks the talk, I would strongly recommend you reach out to Trevor. Trevor and LDC are a winning combination.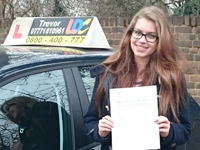 Mia Bassett
1st Time Pass
I passed first time after a 40 hour course with LDC. For me, it was an excellent achievement, and I put some of my success down to Trevor's excellent teaching and the LDC system. I'm quite a nervous person, but Trevor adapted to me very quickly and helped me to tailor the lessons according to what I wanted to achieve - whilst simultaneously pushing me forward too. He put me at ease and always found a way to teach me something new every lesson, helping me to relax in the car. Driving then quickly became an exciting experience rather than something to be nervous about. Furthermore, the LDC system allowed me to go at my own pace, rather than make me follow a rigid structure. Along with the helpful DVD and study book, I feel that I was able to learn and remember the skills I'd need to know to drive safely as well as complete manoeuvres - some of which took some time to get right. I would definitely recommend Trevor to anyone who wants to learn to drive. His own style, with the LDC course, can help any kind of person who wants to become a driver. Thanks for everything Trevor!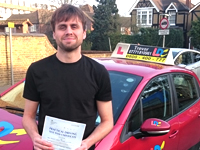 Matt Williams
1st Time Pass with Semi Intensive 30 hr course
1st Time Pass with LDC Semi-Intensive Course after two of my friends gave glowing recommendations of Trevor and the LDC system of learning. I had never even sat in the driver's seat before my first lesson but Trevor's approach and style of teaching means I knew exactly what I was supposed to be doing and felt comfortable, after a little while of course, of reading situations and making the right decisions.
I never felt like I was wasting time or going through the motions in my lessons, Trevor made sure he was constantly adding new things in and he definitely knows how to catch you out if you're not on your game. He doesn't even mind, well not much anyway, if you disagree with what he says but then that's probably because he knows he's right!
Every minute of the lessons was valuable, and it was great fun seeing all these things I'd been taught come together. My advice is to do your homework; the LDC system gave me a head start on every lesson, and combined with Trevor's brilliant teaching, meant that I was confident in my ability when the time came to take my test.
I'd recommend Trevor to anyone that needs help passing as I know they will be in safe hands.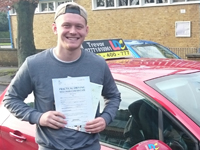 Matt Rogers
1st Time Pass with only 14hrs
1st time pass with only 13/14 hours under my belt. Trevor really has a good method of teaching that helps you, as an individual, to understand. After putting off driving for a few years I finally cracked on and got it done within the time frame I was hoping for.
Thank you Trevor and LDC for all the literature and practical help.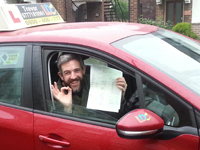 Andrew Lawrence
1st time pass with LDC in 20hrs - ZERO FAULTS!
Having failed two tests at the age of 18 and having given up on the idea of driving, I finally had an incentive to try again after an 18 year break, so after searching the internet I found Trevor through LDC and I couldn't have asked for a better instructor. He was easy to get on with, quickly found the best way to teach me and very patient. After 20 hours I passed my test with no faults. I would highly recommend Trevor's style of instructing to anyone wanting to learn to drive, you won't regret it.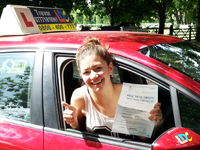 Tamsin Gordon
1st Time Pass! with LDC Semi-Intensive course
Passed first time with 30 hour semi intensive course with LDC. Trevor was an excellent instructor. He adapted quickly to my nervous personality and created a teaching style which managed to majorly increase my confidence and teach me all the necessary skills and manoeuvres to pass in just two weeks. He pushed me through frustrating moments and was always prepared with humorous analogies to calm my nerves. Trevor's experienced instructing coupled with LDC's at home study booklet and DVD were a great combination for learning to drive in an intensive structure. I would fully recommend Trevor to any friends and family wanting to learn to drive as I am confident he would be a great instructor for any type of driver. Thanks Trevor!!
Thanks again for all your help - I am thrilled to have passed :)
Take care - see you on the road!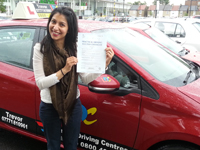 Sakshi Verma
The LDC System pays off
I started my training with a certain 'colour' Driving School and was seriously disappointed with them. They used to charge me a lot per hour and if I didn't like their cancellation policy and the driving instructors were not well trained to teach. I looked at a few videos for LDC on you tube and really liked the methodology and immediately looked on their website for a qualified Trainer. I was really anxious when I first spoke to Trevor but he was very patient and professional and explained me step by step how we could work on my weaknesses. The charges were much more reasonable and was very accommodating regarding the time and day for the lessons.
Trevor was always punctual for all the lessons. I learned at least one new trick in every class to enhance my ability to deal with hazards in a more planned and proactive manner and to become a safe driver. His sense of humour does help to take the pressure off and still understand the skills of becoming a more calm and confident driver.
The LDC book and DVD acts as a helpful tool to set expectations for future lessons and revisit the points discussed during the driving lesson.
I believe getting the right driving instructor is half the job done. I would highly recommend Trevor. He was never critical or impatient no matter how serious the error in judgement was. He always looked at it as an opportunity to learn. Thank you sooo much Trevor, You made learning a very pleasant experience.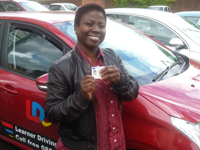 Lilian Nze
Passed with LDC
First of all, A 5 STAR rating from me and a Million thanks to Trevor and the LDC training videos on You-tube! On the 26th of March I passed my practical driving test at the Isleworth Test Centre after two previous attempts with different instructors. What a joy when my Driving License arrived at my door within 2 weeks of passing. (MANUAL CAR)! I was actually told by one previous instructor to give up learning with a manual car and switch to automatic as I did not have the 'technique' to drive a manual car which made me wonder why I bothered learning to drive in the first place and did consider given it all up.
I was very impressed with the LDC driving test tips that I decided to try one of their local instructors and that is how I met Trevor.
After a 1 hour assessment, he pointed out the major areas I was struggling with especially roundabouts, gear changes and clutch control. He also gave me the courage to have confidence in my ability to pass my driving test. I only had 5 hours lesson including test day and the rest as they say is history. Above all, I was amazed that Trevor only charged me normal lesson rate on the test day instead of the huge amount I paid for my previous tests. I also decided to do the Pass-Plus course with him so that I can become not just a driver on the road, but a safe one. Once again, Thank you so much.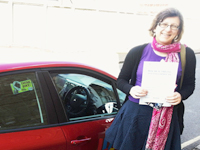 Eleanor Ackers
Passed with LDC Training
Having failed my test 3 times, I was not looking forward to attempt number 4. But with Trevor's help, I finally learnt how to steer in reverse! His calm manner and wide variety of teaching methods increased my confidence and by the time the test came around I felt prepared and secured a pass. Thanks again for everything, Elle.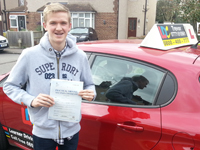 Bradley Sewell
Clean Sheet & 1st Time Pass after 32hrs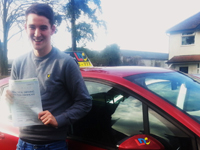 Ryan Baron
1st Time Pass after 32hrs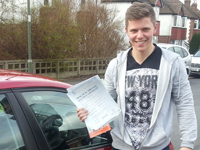 Alex Pearson
Clean Sheet & 1st Time Pass after only 6hrs with LDC, private practice and some previous experience.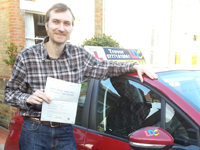 Pavel Novak
I decided to take driving lessons with Trevor after reading positive testimonials on his webpage and I can definitely confirm they are all true. I'm naturally a bit overcautious and think too much ,so it took me longer to achieve the level of confidence necessary to pass the driving test, but thanks to Trevor's patience and teaching skills, I finally overcame my tendency to over think and managed to pass.
Following the positive experience during the driving lessons I decided to take the Pass Plus lessons with Trevor and again did not regret it. It's even more fun once the pressure from the test is gone. I think that the skills learned/experience gained on the Pass Plus are actually more valuable than any, however big the discount on car insurance. Thanks for everything Trevor!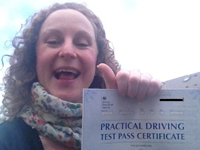 Sam Cheeseman
Passed using the LD System
I was passed Trevor's details after a glowing recommendation from a friend. After a few terrible experiences with driving instructors in the past I thought I would give him a try and was so glad I did!
As a mid-30's woman I should have learnt years ago but was terrified of being behind the wheel and had little confidence that I could actually do it! But, with Trevor's straight-talking but friendly style, sense of humour and ability to adapt information to suit my learning style, I found myself gaining in confidence.
A couple of months of lessons combined with the excellent course material from LDC and Trevor's confidence in my abilities was all I needed to achieve a pass and am now in the process of purchasing my first car :)
I definitely recommend Trevor's driving school and the LDC system for anyone wanting to learn to drive, especially if you are unsure. The material is excellent, the tuition tailored to suit and the rates very reasonable. Trevor himself is friendly yet professional and always reliable - a head and shoulders above other instructors I've used in the past. Go for it!
Thank you once again Trevor for getting me through my test.
Lucy Geer
Perseverance pays off
I really had no confidence in my ability to drive and often went months without a single lesson, but thanks to Trevor's encouragement and belief in me, I persevered and I eventually passed my test!!
I really think Trev is a great teacher and it's no trouble to sit in the car with him for an hour's traffic - with a good sense of humour, plenty of patience for my tantrums and lots of knowledge, he is an excellent driving instructor and I would highly recommend Trevor to anyone who was about to start their driving lessons!!
Thanks for believing in me Trev couldn't have done it without you.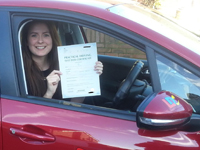 Sara Marshall
1st Time Pass
Trevor, I Just wanted to say thanks again for making learning how to drive (for me) as enjoyable as it could be. You made sure I stuck with it and attempted to make me see the positives from every lesson.
Learning to drive has been a long and difficult journey for me. After having bad experiences with different driving instructors when I was a teenager, shouting at me when I got things wrong and generally not feeling confident behind the wheel, I was scared to start to learn again at the age of 26. Immediately Trevor put me at ease and went at a learning pace that I was comfortable with. He's friendly, easy to talk to and doesn't mind if you ask a hundred questions! I was a very nervous driver who had no confidence behind the wheel and gradually with the help of Trevor as an instructor I got over my nerves and passed my test first time, which I never thought would be possible when I first started to learn. I would recommend Trevor as a driving instructor to anyone, I'll definitely be telling my younger brother to contact him when he decides to learn.
Thank you for all your patience Trevor and helping me achieve what I thought at one point would not be possible.
Karolina Bereznovskaja
1st Time Pass
Thank you for being an excellent driving instructor :)
Trevor is an excellent instructor with a very calm and patient approach when it comes to silly mistakes.
He was always able to give structural feedback, lots of reassurance and always believed that I would become a confident driver that I am today. Although driving can be very stressful and scary, Trevor was always positive and he also had a great sense of humour when I was upset with myself when making mistakes. Each lesson made me feel more confident and relaxed and most importantly, Trevor taught me how to become a safe driver and I even decided to complete Pass Plus with Trevor too!
LDC Workbook was very helpful and I made sure I completed all required exercises before next lesson and Trevor would ask few questions before the lessons to ensure I was studying at home.
I would recommend Trevor and LDC system to everyone who is looking to learn to drive.
Thank you Trevor, look forward to completing Pass Plus with you.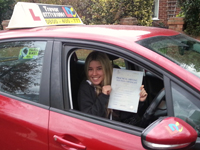 Lucie Courtney
Semi Intensive Course
Trevor is a brilliant teacher. Being recommended by my older brother (who passed first time with him), I felt I would do well as he made me feel both confident and comfortable behind the wheel.
Trevor helped me to be in control and independent which is essential for driving. He simplified driving by using shortcut words that were snappy and easy to remember which I found fun and helpful.
The LDC workbook was beneficial as I kept up to date with it and figured out what I found challenging as well as keeping my mind fresh and prepared for each lesson.
I benefitted from the Semi-intensive course as it was a regular structure which allowed me to learn from my mistakes and quickly correct them without making any bad driving habits. The price is reasonable and I will definitely recommend Trevor to a friend.
Thanks Trevor, I'm looking forward to doing Pass Plus with you!
Emily Lissenden
1st time Pass after 34hrs
Trevor is 'the' driving instructor you want if you want to pass first time!
Throughout the time I spent learning to drive with Trevor, I felt comfortable and was able to ask even the silliest of questions!
The work book that is supplied is a great way to understand what you will be covering prior to your lesson. This workbook also helps for "revision" purposes in the weeks leading up to both the theory and practical tests, it was also very useful in allowing me to visualise how I would carry out a particular manoeuvre.
Overall I found Trevor a very patient and understanding instructor, as he supported and believed in me when undertaking both parts of my test. I would highly recommend Trevor to everyone I know looking for a driving instructor.
Zoe Lester
Pass after 22hrs with LDC System & Private Practice
Trevor is a great driving instructor. He is very patient and takes the time to explain things in detail if needed. Having taken many hours of previous lessons, I chose LDC for the value for money and the range of materials available.
As a very nervous driver, Trevor was very encouraging and persuaded me to tackle the areas of driving that scared me the most in a way that helped me to see that they weren't so scary at all! He was quick to assess my driving ability and tailored the lessons to suit my needs. Trevor is very passionate about driving and will do all he can to help you pass. I would definitely recommend Trevor as a driving instructor if you want a friendly and supportive teacher.
Thank you very much for persevering with me and for all your support and help!!
Thanks again for everything, it's made me my life so much easier being able to drive!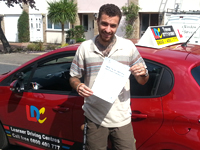 Alejandro Reyes
1st Time Pass after only 15hrs
Trevor is an excellent teacher. Trevor has been very patient teaching me and he caters for different learning styles. I had met other instructors who were happy to arrange a lesson and take my money, but weren't interested in anything else. I was immediately impressed with the system that Trevor used. He sat me down and got to know my goals and he helped me work towards them. The lessons were planned out in advance so I always knew what I would be doing and could use the reading materials to prepare myself. At the same time they also remained flexible meaning that I could participate in identifying my weaknesses, building my confidence and get extra practise. Most importantly Trevor was easy to get on with, he has an amazing way of making people feel comfortable which is really important to make sure you get the best out of the lessons.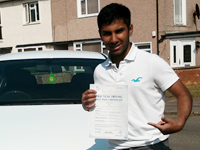 Aqil Hussain
Additional thanks to Donna for stepping in when I could not.
Learning to drive has been a massive journey from my past driving experiences to getting used to the etiquette of the road. However, Trevor was able to teach me and give me strong foundations for driving with all the resources in Pierre (the Peugeot). He has been able to make me a confident and safe driver. He uses his experience to tailor lessons to the needs of each student and ironed out defects in my driving. Proof of his excellent teaching was shown when I had a fall out with Pierre and was able to pass in a totally different car! Thank You Donna! I will use all the knowledge he has given me to drive my car Pearl, hopefully, for a very long time. Thanks Trevor!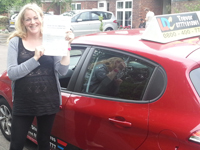 Sam Szanto
1st Time Pass
I would highly recommend Trevor as a driving instructor. Before starting lessons with him I never really believed I could pass a driving test, lacking any confidence in my ability to drive and also having had two instructors who made me feel worse rather than better about my chances of doing so! Trevor was completely different. He's passionate about helping people to pass their test, as well as being very patient and friendly - and also incredibly knowledgeable about every aspect of driving. His prices are also really reasonable. Without him, I wouldn't even have had the confidence to book a test but with his help, encouragement and belief in me, I managed not only to do that but to pass first time (while also being six months' pregnant!).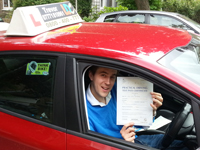 Simon Watterton
1st Time Pass after only 16hrs
Having taken lessons over ten years ago, I was looking to finally go the whole way and complete my driving test. Trevor was the third teacher I tried and he was very quick to assess where I was up to and where I needed to improve. He was really good at getting the balance right between pushing me through my comfort zone and also letting me relax and go over things I felt unsure of.
Lessons with him were a lot of fun and laughter was never far away despite me demonstrating some of my most erratic moments for our lessons...
I was really happy to pass first time and found the test easier than I'd imagined, thanks largely to the thorough nature of the lessons.
Thanks again for all your patience Trevor, and see you somewhere on the A316!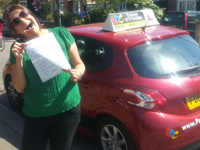 Negin Bardaei
1st Time Pass in 12hrs with LDC
Being new to the driving system in the UK, I am delighted to pass my test with just one minor after halving 12 hours of tutoring.
Trevor boosted my confidence and made me believe in my driving skills. He is patient and excellent in finding out your errors and rectifying them. He is friendly and a great teacher. Always on time and flexible with dates and times that work best for you. I definitely recommend him to everyone who is looking for an instructor because I had such a great time. I cannot thank him enough for helping me.
The LDC book was a great additional help and in total I am really happy with my choice of driving school and instructor.
Once again THANK YOU
Kerry Evans
Passed 1st time in under 25hrs Tuition with LDC
I had taken lessons a few years ago, but stopped. Having a goal to pass my test this year, I set about finding an instructor.....and found Trevor.
Trevor's initial offer of five lessons for a significant discount worked very well, being able to assess whether we were compatible as student and instructor before investing further time and financial commitment was a good incentive to make that initial contact. The ability to block book was very convenient for me, and Trevor was very helpful in planning a program of lessons to fit in with my schedule (I was taking lessons during my lunch break at work).
He guided me through remembering what I had been taught previously, and patiently took me up to the level I needed, to take both my theory and practical test within four months - amazing! The LDC Practical Driving Skills Workbook that he provided was an excellent learning tool initially and really helped me recall the important points for driving safely and well.
Trevor's ability to smile serenely and talk calmly even after the scariest of poor driving decisions is awesome. This was always tempered with sound and reasonable evaluation to ensure I maintained faith in my driving skills whilst trying to get over that 'I'm so stupid' feeling!
I would certainly recommend learning to drive with Trevor to anyone who wants patience, composure and an instructor with the ability to pick up how you like to learn and how best to instruct you - not just what you need to learn. To put it succinctly - I'm a 36 year old woman, I was a nervous pupil, I passed first time and it was all down to having a positive relationship with an excellent teacher - cheers Trevor!
Thanks again for all of your efforts in helping me to pass my driving test. Yours will be the first - and only (!) name I'll recommend!
Linda Holmes
Test Booster Course - 15hrs
Having failed my test over 30 years ago, I decided at 59 years young I would give it another go. I found LDC's website, and Trevor, on the Internet and contacted him.
After assessing my driving skill's (or lack of them) he arranged the perfect package for me, a 15 hour Booster course.
The LDC CDs & DVDs were brilliant. I passed the Theory Test 1st time. Throughout all the practical driving lessons Trevor was the real deal, calm/patient/firm, and helped to build my confidence.
I would recommend him to anyone who wants to learn to be a good/safe driver.
Thank you once again for being a great Instructor.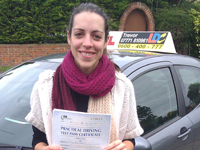 Rachel O'Riordan
1st Time Pass after 30hrs Semi Intensive Course
'As a brand new learner driver with absolutely ZERO experience, Trevor and the LDC handbooks helped me learn to drive and pass my test first time in four weeks. The learning material was so helpful and having put aside the time to learn intensively I was able to focus and go through it thoroughly. I can't imagine learning any other way.
Trevor was, genuinely, a great instructor and I will be referring him and LDC to anyone I know that wants to learn.
It must be said that I wasn't the most confident of learners, but the way the intense driving course is designed helped me see my progress each step of the way, with regular feedback from Trevor at the beginning and end of each lesson. Before I knew it, I was driving the car with gusto and not thinking about gear changes or clutch control anymore but able to concentrate on more important things on the road.
Also, I needn't have worried about forgetting what I'd learnt between each lesson... the pace of the intensive course was perfect for keeping everything ticking along nicely. Trevor was happy to answer my gazillion questions at anytime, and never made me feel stupid even though I might have been feeling it. He tailored every lesson to my learning needs as the days progressed and I felt well prepared for my exam.
Thank you Trevor and LDC! - Now I can drive myself to work and it has made a very positive difference to my life!'
Courtney Webb
First Time Pass (Clean Sheet - 0 Driving faults!) with prior training & only 15hrs of LDC training
I would like to take this opportunity to thank you for all your help and support in passing both my theory and driving test on first attempt. I believe without the reassurance and helpful tips you constantly gave, I would not have passed so successfully with a clean sheet.
A particular area that concerned me was the theory as it has never been my strongest suit. Again, the LDC Study Materials, books and DVDs, you provided helped no end and I sailed through without any issues. The intensive block learning definitely suited my learning skills.
Again thank you Trevor, you are a credit to the LDC system and I am very glad that I chose to learn with you.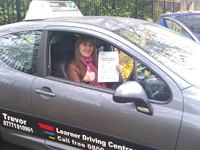 Vaiva Bizyte
Passed after 33hrs of Tuition using the LD System
It was an absolute pleasure to have such a great driving instructor as Trevor. He was always patient, understanding and with a great sense of humour. Step by step, lesson by lesson, and I obtain the knowledge, how to be a confident and, most importantly, safe driver. After each lesson, Trevor identified my weaknesses, so I could work on it and during the next lesson, show him that my driving skills have improved. He always believed in me and pushed me to a higher levels!
Here is the secret how to become a confident driver for life (not just for a driving test) - use the LDC Workbook and DVDs, not forgetting Trevor as your driving instructor.
Once again, I would like to say THANK YOU Trevor and I wish you all the best in the future. I will recommend you to everyone!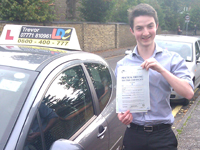 David Bestley
1st Time Pass with LDC Semi-Intensive Course
I had never had the need to drive until I got a job, and then it soon became apparent that I needed to learn and do it asap. As a friend had recommended Trevor previously, I had his details in my phone and so gave him a call to see what could be arranged. During the one phone call Trevor provided all the information required and his availability dates and we tentatively booked in some provisional dates, accommodating that I needed to learn in the evenings/weekends. Time passed and I didn't get back to Trevor very promptly about going ahead or not. However, he chased me up and gave me the push I needed to start learning. Soon enough, from having never driven a car previously, Trevor had taught me and given me the confidence to be on the road, leading me to pass my test first time. Trevor was very patient and supportive, I'm sure he would be the first to agree I may not have always listened to his instruction first time, but this never annoyed him and he would just laugh it off and unfortunately always turned out to be right in the end;-) I highly recommend Trevor and I'm hoping I can book the Pass Plus course with him in the future to further improving my driving skills.
David was a great student, as he always did his homework & always had the right answer to my questions - once he decided to use the knowledge he had learned from the LDC Study Book & DVD, there was no stopping him - Hey presto, another 1st Time Pass for the LD System.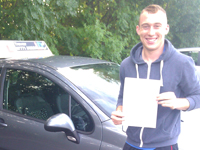 Alex Larson
1st Time pass with only 30hrs
I first heard of Trevor through a family friend who passed first time. So after hearing that I thought he would be a good teacher and that the same would happen to me. Using Trevor and the Free LDC Driving Skills Workbook made life easier. He'll give you all the guidance to make you a good driver and all you have to do is listen. He will give you other things to look at during you spare time which will help towards the learning process during your actual driving lessons.
Doing the block lessons (sets of 10hrs) was easy as you paid for 10 at a discount and then you didn't have to worry about it until your next block, so I would recommend the block lessons.
I was lucky enough to pass first time thanks to some heroics from Trevor, so it's very simple, if you want to pass first time then use Trevor.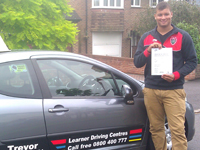 Guy Armitage
Passed (With only 1 minor 'Driving Fault') after just 31 hrs using the LD System
I was told to get my lessons with Trevor as soon as I needed to pass. He asked if there was a specific deadline I was aiming for. After a few lessons, having never driven before, he was confident I'd pass despite booking a test a couple of months away. We always had targets and discussed any weaknesses. He was always patient, even with repetitive mistakes after I reassured him I understood. The timetable was always flexible and he was understanding when I couldn't make a lesson.
I found the book really helpful as it was easy and precise with questions after each chapter to test yourself. I'm not one for reading and tests but it was down to the point and told me what I needed for the road.
I wasn't keen on beginning lessons, not knowing what kind of driving instructor I'd get, but I was lucky a friend passed Trevor's information to me. I am glad to say I've passed with 1 minor and I'm confident on road. Thanks Trevor, much appreciated!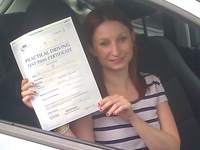 Stacey Bottriell
Passed after only 20hrs with LDC
I was a nervous wreck when it came to driving and to be honest, never thought I would pass. I started the Midway driving course with Trevor who was very patient and supportive, which really helped me and made me feel at ease whilst driving. He helped boost my confidence with roundabouts, which I hated.
Thanks to Trevor I have now passed my test and cannot be happier. I had previous instructors before I chose to use LDC, but found learning with LDC was the best. The work book did help me understand certain manoeuvres and different aspects of driving. I am forever grateful to Trevor ... You are a legend! :-)
Tom Critchell
Passed 1st Time after only 28hrs
Trevor has a very professional, patient and co-operative approach when dealing with his students. He discusses the students' faults and praises them when mastering one of their combined targets. I couldn't have asked for a better instructor than Trevor as he aims to achieve a lot, within a short space of time at a good price, which overall is cost efficient. Trevor is very talkative and doesn't make the student feels nervous, but comfortable; he keeps reassuring his students that the goals are achievable and they will do well in the test and beyond. Thank you for everything you've taught me.
Tom assures me he is also planning to take the Pass Plus Course to continue his learning process.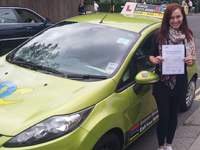 Natasha Ward
1st time Pass with LDC's Semi-Intensive course of 30hrs.
Trevor is a one of a kind instructor, and I should know. I've had a few!
To my surprise (and to be honest, the surprise of most of my friends and family) I passed first time after taking a semi-intensive course with Trevor having had multiple lessons and instructors in the past with little results.
The LDC way of learning is very simple and that is complimented by Trevor's lovely nature. He is patient and calming (even when a wasp flew in the window whilst I was tackling a large, busy roundabout he managed to keep me calm) and most of all, a brilliant teacher. He filled me with confidence and made me believe in myself and has taught me a life skill I will always be grateful for. Even though I started every single lesson very nervous, I ended them having faced a few challenges and overcoming my fears (roundabouts!) and feeling comfortable behind the wheel - thanks Trevor :) And now I'm even going for the Pass Plus!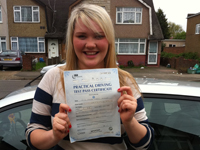 Oonah Somner
First Time Pass
Only 30 hrs with the Intensive Course
If you are reading this looking for the perfect instructor… then look no further, Trevor's your man! I passed first time with Trevor, I had a one week intensive course (no previous experience at all).
Trevor is a great teacher and makes you feel at ease when driving, he made something that most people dread into an enjoyable experience. I would recommend the LDC course and of course Trevor to anyone looking to learn to drive!! I didn't get to watch as much of the DVD as I would have liked to, but I found that the book really helped me, It was like my bible!!
Again, thank you so much Trevor… LEGEND J
Chris Hallsworth
Intensive Course
I had put off learning to drive for a number of years and was apprehensive of taking lessons. I wanted to pass quickly, and with competitively priced lessons. I found LDC's website and contacted Trevor about an intensive course. His calm, assured manner instantly put me at ease, and with the help of the LDC workbook and DVDs I soon gained the confidence to put theory into practice. Trevor had me up and running in no time. By setting clear lesson objectives, and using a range of driving situations to gain the relevant experience, he soon had me exceeding my own expectations. I am happy to say I have now passed my practical test, thanks to Trevor.
Stephen Hoare
Passed 1st time with Semi Intensive Course
Having tried a handful of lessons a year earlier and being thoroughly unmotivated by it all, I decided that at 39yrs old it was time to finally get it done. Trevor is relaxed, patient, knowledgeable and best of all positive.
Most (!) of the things I did were received with positive feedback, which is priceless when learning to drive and, if there were issues, we dealt with them straight away which turned them immediately into positives anyway.
The LDC system is straightforward, easy to manage and actually gets you into a position where the test is easier than expected. Trevor's aim is to get you to a level above and beyond the test so that the test itself is simply a stepping stone to enjoying driving.
If I'd known I could achieve a first-time pass in 2wks I would've done it years ago! Thanks Trevor'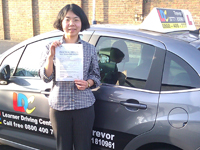 Dr Bo Su
Passed with LDC & booked for Pass Plus
Driving to me was always like a nightmare. Having had a major car accident and unsatisfactory experience with five driving instructors before Trevor, I felt that to put me behind the wheel was like to send me to Afghanistan to fight. But Trevor was a wizard, and I kept wondering how he could keep so calm while I was driving like doing extreme sports.
The thing that really amazed me was his ability to pitch the lesson at the right level and push me into new challenges before I even realised it. How many times did he say 'yes, you can' in response to my 'no, I can't do this' The annoying thing was that he was always right, and each time I actually achieved what he asked me to do. I must credit him who taught me this lifelong skill so well that I passed with two minor faults, and what he taught me will be remembered for the rest of my life.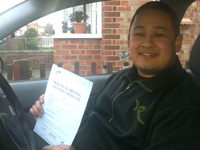 Pradeep Pradhan
1st Time Pass
Learning to drive with Trevor has been a great experience. He is very professional and talented instructor.
When I didn't understand a particular topic, either from the LDC Study Materials or in the lessons, he always came with different approach to help me understand it.
He is very patient with his students, which has helped me to improve my driving and confidence on the road. He allows you to plan the timetable to your needs and the pricing is very reasonable.
Thank you very much for all the hard work you have put on me to pass my test and to be a good driver.
I will recommend Trevor to anyone who wants to pass the test at ease and be a safe drive for life.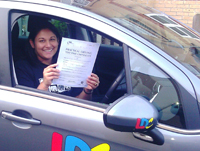 Rachitha M Archarige
I first got to know Trevor through my husband who was also a learner driver with LDC and Trevor.
Because of the great feedback I heard, I decided to book a few lessons with Trevor and decide for myself.
At the beginning I was very doubtful and quite anxious about driving past high vehicles following a bad previous experience which had lowered my confidence.
Trevor was understanding and approachable which helped me to gradually rebuild my confidence behind the wheel. The feedback I received during and after each lesson was a great help to concentrate on the needful points.
Trevor not only teaches you the importance of maintaining your attention on the road, but also his affable approach teaches you to relax and enjoy driving.
I found the material I received FREE of charge at the beginning of my lessons very helpful. Further, the video uploads on Youtube by LDC helped me to get an understanding of what to expect on the test date. Although, I didn't use the LDC DVDs I think I would have benefitted from videos on manoeuvres.
I recommend Trevor Maddison to any learner driver, as he teaches his students to become a safe and progressive driver for life not just for the test.
I am not an expert in driving yet, but I hope I will be with experience thanks to the excellent guidance and tips I received and learned from Trevor.
Thank again Trevor, keep up the good work.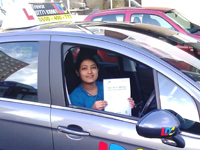 Saujanya Gutala
Using the LDC System went from Novice to Expert
Trevor is a friendly person. He has a lot of patience and good understanding of what a learner expects and imparts the needed driving technique in a simple way.
The LDC system and the driving course methodology gives the right perspective and real time understanding of driving experience.
I would definitely recommend Trevor, who is really a very good driving instructor. I would like to say 'BIG THANK YOU' for his support from my journey as a learner towards a successful test :).
Me Bhuvaneshwaran Chinnaswamt
1st Time Pass after 9hrs using the LD System.
I came to know about Trevor through my friend. He is a very professional Driving Instructor & has very well-structured teaching method backed up by the LDC Study materials.
He identified & understood my problems very quickly and then helped me in overcoming them.
Trevor, Thanks for your support throughout the learning process.
Although Bhuvan did have previous driving experience, it was all gained in another country & he realised that driving in the UK requires different / extra skills & knowledge to reach the stringent UK test standards.
He studied, practiced & perfected. Resulting in a 1st Time Pass - Well Done Bhuvan!
Harry Desmond
First Time Pass on the 'One Week Pass Course'
Trevor is a brilliant instructor. He obviously taught me well, as I passed first time in just a week!
I did most of my home study using the LDC Driving Skills DVD & of course Trevor's instruction. I would recommend to anyone, learn to drive with LDC and 'Pass with Trevor.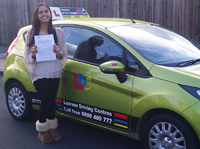 Cheryl Gill
Trevor was the best driving instructor I had (and I would know because I tried out AA, BSM and two other independent driving instructors!).
He found the perfect balance between teaching and making lessons enjoyable, which I feel is a skill many other instructors lacked! Trevor showed me that he genuinely cared for my driving and supplied me with numerous resources such as the LDC Workbook & DVD and used vision aids to assist in my learning. He was patient with me but pushed me to higher levels, which ultimately gave me the confidence in the capability of my driving. I am genuinely thankful to Trevor for helping me pass my driving test and continue to recommend him to everyone I know.
Elena Akcil
Trevor is a very professional driving instructor, with a very well-structured teaching method. He has great skills, both as a driver and as a tutor, which is extremely important when learning a skill you think is not really your second nature.
Choose Trevor and you will soon find out you have all it takes to be able to drive. He will show you what your strengths are and help you work on the weaknesses you thought would always be an obstacle in learning to drive. Trevor is very calm and methodical and will always make sure his explanations are well understood.
Thanks to Trevor I found the self-confidence and determination to turn driving into not only a useful but a pleasant experience as well.
Thank you Trevor for helping me achieve this.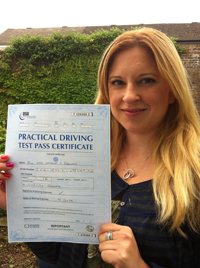 Sara Robinson
1st time pass with LDC Intensive 30hr course
Trevor is a first class driving instructor and a natural teacher. He understands the psychology of the learner driver and is therefore able to really address your specific needs and tailor each lesson to the individual.
On a professional level, Trevor is calm, flexible and endlessly patient and is clear and concise in his explanations. On a personal level, he has a great sense of humour and is friendly, sincere and down to earth. I genuinely did not anticipate enjoying the LDC intensive driving course as much as I did (I did not think I would enjoy it at all, in fact), but Trevor turned a daunting prospect into a fun, positive and exciting challenge, and passing first time rapidly became an inevitability rather than an impossibility. Most importantly, Trevor allows for mistakes to be made and is never critical of those mistakes and so your confidence as a driver quickly and steadily grows which is immediately reflected in your driving ability.
I felt so lucky to have found Trevor, particularly when I heard some of the horror stories my friends have had with driving instructors and, unlike a lot of them, I now absolutely love driving. I would whole-heartedly recommend Trevor to anyone looking to learn to drive - he is relentless and will make you work extremely hard but he's 100% behind you every step of the way and will ensure you get that all important pass!"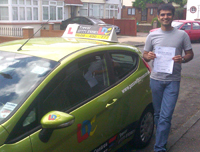 Usman
"Trevor is a first class instructor, possess high-class skills to help you to be a progressive driver. I loved his approach during the lessons. He always emphasised how to be a good driver, not how to pass the test, because good drivers always pass the test automatically.
The LDC system is very effective, charts and other graphical material really helped to understand the situation."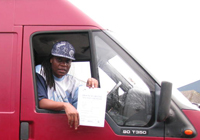 Charles Smart
First Time Pass after 15 hours with me
A very special thanks to Trevor. I was referred to Trevor by Kudzai, who had just passed her driving test first time with Trevor after 15 hour LDC Test Booster course. She told me how great and experienced he was and I took him on.
I was over the moon when I passed my driving test first time after a 3 day 15 hour LDC Test Booster course. The guy (Trevor) knows his stuff; he is patient and definitely has an ability to make learners understand in an easy way. His wacky sense of humour helped a lot, plus his great teaching skills. He does not just teach you to pass but to be a good and safe driver.
'I know you don't like 'white van man' ;-)... [TM: The words I used were: "always underestimate 'White Van Man' "] ... but mine is maroon, plus I do take great care, lol. Thanks once again for putting me back on it".
I highly recommend Trevor to anyone who's serious about driving; don't waste time with time-wasters, as Trevor won't waste any."
John Hayes
I had been looking for a flexible solution to learning to drive and having contacted several companies offering intensive courses and receiving no response, a fresh search brought me to the LDC website. I searched for my local instructor and discovered Trevor. I received a quick response to my initial enquiry and soon had a lesson plan put together and was on my way to learning to drive.
It had been years since I first started learning and now as an 'older' learner I really wasn't sure what to expect and was quite nervous to say the least. However, I quickly relaxed with Trevor and got back into driving a car, whilst the LDC workbook provided a solid base of understanding beforehand. I probably wasn't as good as I hoped I would be (it was over 10 years since I had last driven) but Trevor was patient and understood what I needed in order to advance.
He is very calm and precise with his instructions and knows how to challenge you to become a better driver by identifying weaknesses and providing new situations that will challenge that weakness and guide you through making the right decisions. It wasn't just about learning to pass the test; I found his teachings also taught me how to analyse situations myself and choose the right option and I'm now confident in my driving abilities all thanks to Trevor!
David Prosser
Having missed the opportunity to take my test when I was 17 I decided that I would get my license before my 30th Birthday. I decided an intensive course would be the best way for me to do this and set about researching my options. Having come across Trevor online we spoke on the phone and I knew he was the right person to help me pass. He supported me from the outset with my some very handy tips that helped me pass my theory test before we'd even met.
When it did come to the lessons, Trevor's ability to calmly, methodically and effectively teach was fantastic and gave me both the competence and confidence to ultimately pass. It wasn't a case of say/do. He helped me understand what I was doing wrong and helped me connect the dots to improve.
And if you're going to spend a week of your life learning to drive a car with someone there's no better person to do it with…
Such a relief to pass! Thank you Trevor!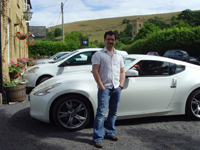 Simon Parsons
1st Time Pass with LDC System Intensive Course
I wasn't too bothered about learning to drive until my girlfriend and I bought a nice new car. I soon got fed up with being in the passenger seat, so I decided to take the plunge. Having reached the grand old age of 41 without a license, I was quite nervous about the challenge ahead. I decided on a LDC One Week Pass course course, as this seemed like the most economical way of achieving my goal in the shortest time. Trevor took the time to explain things logically and clearly, so that I developed a sound understanding of the principles of good driving. His training gave me the skills to put them into practise on the roads.
Everyone makes a few mistakes learning to drive. For me, the sign of a really good instructor is one who helps you to remain calm when those mistakes happen. Trevor did that. He also gave me the encouragement I needed to persevere when my confidence took a dip on the day before my test. Being told I'd passed first time was an amazing feeling that I'll probably never forget. Best of all, I now get to drive our car instead of just sitting in the passenger seat!
Trevor is an excellent instructor, both technically and in the way he deals with people. I would recommend him to anyone who wants to pass, regardless of age or previous experience."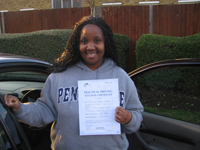 Kudzai Mhondoro
1st Time Pass with LDC System after Intensive 14hrs
I will surely refer you to anyone I know who wants to learn to drive. Thank you so much.
I was someone who had my provisional since 2006. All the experiences I had with other driving instructors reduced my confidence to take the test.
The instructor I had just before Trevor told me I would never make it and I should cancel my test as I need a minimum of 40 lessons.
I then met Trevor. After the first lesson he told me I could make it if I worked hard, so I thought to myself for the first time I can actually make it.
In the 2 intensive days with him I learnt so much. He was patient and reassuring. On the third day, the test day, we only did an hour before the test. I passed on my first test with only three minors, which is amazing. The examiner said I was actually a good driver. This is only because of the skills Trevor has and the hard work you are willing to put in. I would recommend him to anyone who is serious about passing.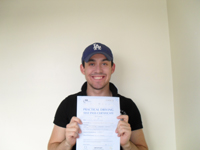 Colin
1st Time Pass with LDC System After 14hrs
I had previously done three tests all before I was 18 with 2 other driving instructors. Picking up driving again at 22 was quite a tough thing to do more in terms of having to go through the process of re-learning and being in that environment again, especially after having only ever failed driving tests.
Having Trevor as my instructor was a revelation for me, he was able to very quickly pin point my key weaknesses in my driving skills. This enabled both of us to hone in on the specific problems which were causing me to fail my tests.
Trevor was an excellent driving instructor throughout, punctual, willing to work around your schedule as much as he good and overall very intellectual in the way he taught driving. I truly think I would not have passed if I had not have had such a high quality driving instructor as Trevor.
Without a moment's hesitation I would recommend him to anyone I knew who was looking for a driving instructor!!!
Rgds - Colin
Leanne Cork
First Time Pass with me after 20 hours
When I first met Trevor, I was a very nervous driver. I had driving lessons before but my instructors never filled me with any confidence. Trevor put me at ease straight away and reminded me just how much fun it is to drive. We had many lessons together but I never felt under pressure to get it right 'every time' at anytime. Trevor would always talk to me about what I was doing wrong and what I should do to correct the problem. He would never ever scold me and would always be patient, no matter what. I have now passed my test with confidence, thanks to him.
Thank you so much. You have always been helpful, easy going, understandable and available.
Thank you just doesn't seem enough for what you have done for me. Leanne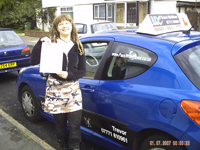 Vicky Standing - First Time Pass
Well, we had a rare old time, didn't we? :-)
I was very nervous about learning to drive, having had no experience whatsoever, so I wasn't sure what to expect from my lessons. Throughout my course, Trevor managed to put me at ease with patient tuition, a great sense of humour, and by remaining calm even in the face of occasional hair-raising moments on the road. He managed to push me just hard enough to ensure I made noticeable progress on every lesson, but without making me feel under pressure or going too fast for me.
Thanks to his hard work, I passed my test first time to general amazement from my friends and family, and hope to take the Pass Plus course later this year. I would recommend Trevor to anybody wishing to learn, and hope you enjoy your lessons as much as I did!
Thanks again, Vicky.
Rachel Jolly
First time pass with LDC After only 14hrs
I can highly recommend Trevor's teaching to both confident and nervous new drivers. It had been 19 years since my last driving lesson, and I was a little intimidated by the thought of returning to the road. Only 14 hours of tuition with Trevor, and I passed, a happy, confident new driver. Trevor has endless patience, coupled with the ability to make all his instructions calm, clear, simple and easy to remember. A calming voice and a good sense of humour also helped through some crowded moments at roundabouts and junctions. I couldn't have found a better teacher, and now plan to shred his nerves all over again in a blue sports car on motorways' in the Pass Plus course, and promise to resist at all costs the 'girlie flick' ;-)
All the best - Rachel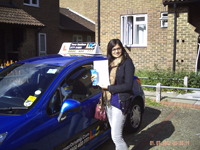 Rumayna Khan
Learning to drive was something I thought I could avoid for a long time as quite simply I didn't have the confidence at all to trust myself behind the wheel. That all changed after being introduced to Trevor from my brother who had just passed his test with Trevor's help. He made me feel at ease and guided me through each stage of driving at a steady pace comfortable to suit me.
The LDC learning material meant I was able to still learn about driving without being behind the wheel and also to it helped to prepare you for the lesson ahead. Despite my slightly 'off' days and self doubt, Trevor never put me under any pressure and was always very patient, friendly and incredibly understanding.
I am now able to get out driving on my own but will never forget the many wise words that helped me get through my driving test. Trevor was recommended to me and I recommended him to a good friend of mine within a few weeks of me starting my lessons as he was just that good!!'
Thank you for all your help and I really am going to miss the driving banter! Take care, Rumayna.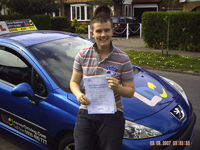 Ryan Livingstone
1st Time Pass after only 20hrs
Learning to drive with Trevor a really good experience. He made things easy to understand therefore making the learning process much easier. There were a few times when I made some bad mistakes, but Trevor re-assured me and just told me how to correct it and how to avoid the mistake in the future. All this put together with the LDC course book and DVD made the experience relatively easy and quick. Thanks, Ryan.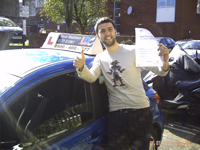 Jason Duloquin
1st Time Pass after only 15hrs

David Birchmore
1st Time Pass after only 13hrs
Learning to drive with Trevor was a great experience and was also good fun. He was ever patient and a calming influence. Even when things went a little wrong he was calm and collected and very reassuring. Thanks to Trevor I passed first time and look forward to working with Trevor again with my Pass Plus course. Just as well really as I have now driven several thousand miles in only a couple of months. That freedom is truly down to Trevor. Thanks for all your help.
Cheers
Dave
Michael Parkin
1st Time Pass after Semi-Intensive Course
When I first decided to do a semi-intensive driving course, I was unsure of what to expect. But by the end of the first lesson I knew that Trevor was definitely the best person to make this a success. Roughly 4 weeks later I was sat in the seat of the car with a pass certificate in my hand. Over these 4 weeks Trevor had taught me to drive in a way that I felt confident and relaxed when behind the wheel of a 'big metal box with wheels'. Above all, I had a very enjoyable time and gained valuable experience learning with Trevor and I will be recommending him to many friends.
Thanks again.
Michael.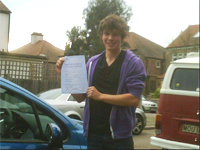 Jack West
First time Pass & Excelled with Pass Plus
Trevor was a brilliant instructor who always made me feel at ease in the car and allowed me to excel rapidly through the lessons. His explanations and guidance helped me greatly in understanding how to become a safe driver and the confidence this gave me allowed me to pass my test first time!
After completing my test i was also delighted to work with Trevor again for my Pass Plus certificate which helped lower my insurance and helped me with more advanced driving.
So thank you Trevor in making me a fully qualified driver ready to tackle anything on the roads!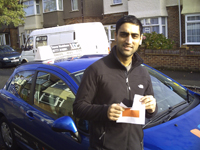 Raja Sawar
Thanks for going that little more than other driving instructors. Due to my own busy work timetable, you made yourself available at very short notice.
Patient, professional and delivering a driving package which best suited my style of learning. The LDC Test Booster course you taught enabled me to pass my test in 15 lessons and now I am driving safely and with confidence.
I strongly recommend Trevor's LDC driving school as he tailors a driving course according to your specific needs and style of learning. Not only will you pass your test in a short period of time, you will become a competent and safe driver.
Lara Broggini
Hi Trevor, I hope you're well and still getting students safely through the streets of Ashford!
Anyway as promised here is a big thank you email for helping me pass my test, first time with LDC!...
Trevor, Thank you so, so much for your brilliant instruction during my crash course with the LDC methods! I really enjoyed learning how to drive with you and had every confidence in your advice! Thank you for being positive and calm throughout and being a true professional as it kept me calm and focused throughout the week!
I am so excited to have passed and feel like I have a thorough knowledge of the rules of the road all thanks to you!
Thanks again
Katerina Varentsova
Hi Trevor, Just a quick note to say Thank You very much. I passed my test in my own car today!
You are an amazing teacher!
And all the tricky roads, corners and junctions you showed me in preparation for my test were actually on my test route.
I drove on the motorway today & it was ok. I would like to book some time with you for training on the motorway though.
Thanks again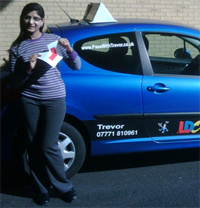 Swati Aggarwal
Dear Trevor,
If you are looking to take your driving test and searching for a driving instructor then you have reached the right place. Trevor Maddison is just the perfect driving instructor. I have just passed my driving exam and give full credit to him.
One thing I like the most about him, is the way he used to identify my driving faults and analyse and explain them to me so well. Moreover he was always so patient, when I used to do them again. Thanks a lot Trevor. You are the best.
Regards and best wishes
Swati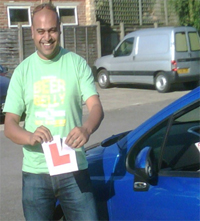 Jidz
I found Trevor's details on-line, and to be honest I am very glad I did.
Trevor was very helpful, considerate, calm, and very patient; he taught me a lot and is a very good teacher. On top of that.......he had a nice and decent car!
On a serious note, I managed to pass my test with Trevor's help in only 15 lessons, he gave me the confidence to go for it, and with his help I succeeded.
I would highly recommend him to anyone whom is learning or looking to learn to drive, I have already passed his details to family and close friends that are looking to learn.
Good Luck Trevor.....all the best, and good luck to all the future students!
Li-Teck Lau
Dear Trevor,
Thanks again for your help learning to drive. I had good fun, even if the test wasn't totally successful! Anyway, apologies for not getting round to doing this earlier, but I am very happy to write a testimonial.
I did a one week intensive course with Trevor having done very little driving before, and would have passed if not for a silly mistake of my own! He explained things clearly, was patient, punctual and very friendly. You couldn't ask for more from an instructor.
Best regards
Rosana Masowa
Thanx to u too i am now 1 of the safest drivers out there.
If i ever have a friend who is looking for an instructor you will definitely hear from me.
And yes i have heard of that song, Moloko is my african name actually, it means togetherness in my country, thanx a lot for everything.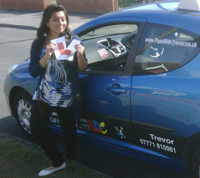 'Some of the many First-Time Passes'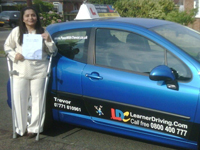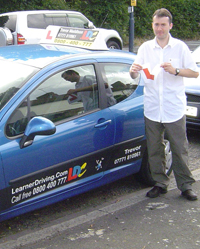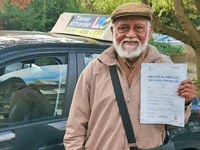 Vishakan Krishnadasan
Salaams, salutations and namaskaram to a superb instructor. Trevor has succeeded in enabling a decrepit eighty-four year old ( I believe I'm his oldest pupil) to unlearn bad habits garnered over sixty-four years of driving in Sri Lanka, Zambia, Swaziland, Japan, the United States and Europe. A United Kingdom driving licence was the glorious result. May I say without any hesitation that this was due to his excellent teaching method relating in particular to ensuring that I constantly look in the mirrors, look back at the rear windscreen when reversing, be alert when negotiating roundabouts on dual carriageways, and look all around when reversing round the corner, parallel parking and turn in the road. All importantly, his unfailing courtesy, forbearance and inimitable sense of humour helped instil a sense of confidence and control. May I thank LDC for putting me in touch with this gentleman. I will most certainly recommend him to any aspiring driver especially my grandchildren.